1-800-297-6076
24x7 EXPERTS
Payment Plans with Affirm
Affirm allows you to spread your purchase over time with fixed monthly payments. Just select financing with Affirm at checkout
Product Experts
Talk or chat with one of our friendly experts and ensure you order the right product for your needs. Average call wait time is less than 1 minute
1-800-297-6076
Built-In/Undercounter Ice Makers
Undercounter Ice Makers Provide the Perfect Amount of Ice for Homes, Office Break Rooms, and Luxury Suites
Built-in ice makers are a great addition to any kitchen, wet bar, office break room, luxury suite, or small business. If you have a large family and your fridge/freezer ice maker can't seem to keep up with demand, a built-in unit is perfect for you. Also, if you love to entertain family and friends, having an undercounter ice maker will ensure that you'll never have to buy bagged ice from the convenient store ever again. Many office workers appreciate having ice on-hand in their break rooms to complement water coolers or other beverages consumed throughout the day. Designed to fit perfectly under the counter or be built-in flush-with-cabinetry, these ice makers are the perfect out-of-the-way convenience.
Undercounter ice makers come in a variety of widths, have different ice production capacities, and produce varying types of ice cubes. Small-scale undercounter units produce 12 to 45 lbs. of ice, while the larger-scale units produce over 80 lbs. of ice per day. Most built-in ice makers produce cubed ice, but others make gourmet ice, nugget or pearl ice, or clear ice. Some units are as slim as 15 inches, which is the perfect width for replacing an outdated trash compactor, while others are standard cabinetry widths. There are also many undercounter ice makers that are ADA compliant.
All built-in ice makers will need a water line and a drain of some sort, whether your use a gravity drain or a drain pump is based on the ice maker's vicinity to the nearest drain.
Outdoor built-in ice makers are designed specifically for use in outdoor kitchens, bars, or garages. Their construction and design are meant to withstand the wear and tear of most elemental conditions. Like most appliances, built-in ice makers come in various colors and finishes, like black and stainless steel, which will match or complement your existing appliances or décor.
Most Watched Videos
Introduction to Ice Makers
Introduction to Ice Makers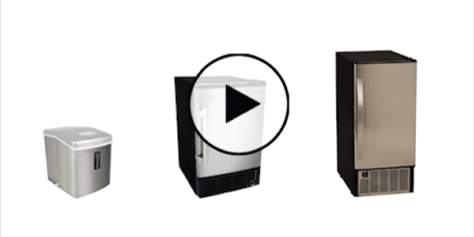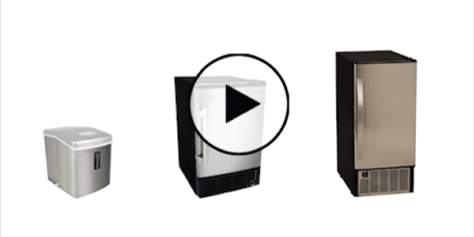 Introduction to Ice Makers
Ice Maker Maintenance
Ice Maker Maintenance
Ice Maker Maintenance
Toss the Trays
Toss the Trays
Toss the Trays
Have a Question? Call 1-800-297-6076
We Give You More
Free Shipping
Get free standard shipping on thousands of designated products across our site. Some items, like very large and heavy products, do not qualify at this time.
30 Day Returns
Just give us a call to return your item. Most items can be returned up to 30 days from the purchase date. For specific details please read our return policy.
17 Years of Service
We have been providing excellent customer service since 1999, from 24x7 phone support, a world-class website and learning center, and faster home delivery.
Helpful Product Experts
Talk or chat with one of our friendly Austin, TX experts and ensure you order the right product for your needs. Average call wait time is less than 1 minute.
Price Match
We are competitively priced everyday but if you do find a better deal at another authorized dealer let us know. For more details, see price match policy.
Loading Video
Toolbar Comparison Guide
About
Using the "Compare" button, you can store products in the toolbar on the bottom of your screen to compare later.
Usage
Click on an item to toggle between "selecting" and "deselecting" it. Products are selected by default. When you hover over a product on the toolbar, you will have the options of viewing the item or removing it.
Comparing
You must have at least two products selected in the toolbar to compare them. Once you do, click on the "Compare Selected Items" button on the toolbar.
Product Compare
Sort Results