1-800-297-6076
24x7 EXPERTS
Payment Plans with Affirm
Affirm allows you to spread your purchase over time with fixed monthly payments. Just select financing with Affirm at checkout
Product Experts
Talk or chat with one of our friendly experts and ensure you order the right product for your needs. Average call wait time is less than 1 minute
1-800-297-6076
Countertop Portable Ice Makers
Model: KIM202W
Koldfront
Ultra Compact Portable Ice Maker
Production capacity: 26 lbs of ice/day
Storage capacity: 1.5 lbs
Produces ice in an average of 10 minutes
Weight: 20.3 lbs
Dimensions: 12.9" H x 9.5" W x 14.1" D
Model: IP210SS
EdgeStar
Portable Stainless Steel Ice Maker
Easy-to-use electronic controls
Produces ice in an average of 10 minutes
Stores up to two (2) pounds of ice at a time
Weight: 25 lbs
Dimensions: 14 1/2" H x 11 3/4" W x 14 1/2" D
Model: IP210TI
EdgeStar
Titanium Portable Ice Maker
Begins producing ice in an average of 10 minutes
Use tap water or bottled water
Stylish titanium finish
Weight: 23.6 lbs
Dimensions: 14 1/2" H x 11 3/4" W x 14 1/2" D
Model: IP210BL
EdgeStar
Black Portable Ice Maker
Begins producing ice in an average of 10 minutes
Use tap water or bottled water
Soft touch controls
Weight: 23.6 lbs
Dimensions: 14 3/4" H x 11 3/4" W x 14 1/2" D
Model: IP210RED
EdgeStar
Red Portable Ice Maker
Begins producing ice in an average of 10 minutes
Use tap water or bottled water
Soft touch controls
Weight: 23.6 lbs
Dimensions: 14 3/4" H x 11 3/4" W x 14 1/2" D
Portable Ice Makers are Great for Countertop and On-the-Go Use
Portable ice makers are a fantastic countertop appliance for those that need supplemental ice in their home kitchen or bar but don't want the hassle of installing a new refrigerator/freezer or clunky ice machine. Like their name suggests, these ice machines are completely portable. They require no installation. You simply pour in water, select your settings, and just like that, you'll have fresh ice in minutes. You'll never have to deal with those pesky ice trays permanently installed machines again.
In addition to home countertop use, portable ice makers are a great ice source for boats, RVs, campers, tailgates, or any other on-the-go capacity. The only requirement is a source of power. Otherwise, you can bring and use these compact devices anywhere you wish.
Countertop ice makers come in sleek colors and finishes that are designed to match your other modern kitchen appliances, such as silver, stainless steel, and white. This, paired with their compact size, ensures that they are a seamless addition for any space and décor.
All models feature easy-to-use controls, so ice making is quick and effortless. Portable ice makers also feature insulated storage bins to keep your ice from melting quickly, and most feature a drain plug for easy water draining. For those looking for a specific cube size, some models have up to three (3) different ice cube size options. Additionally, many countertop ice makers employ an innovative water-use technology that reuses water from melted cubes to automatically make more ice, conserving your time and water resources.
Whether you are tired of filling up ice trays or looking for a versatile ice machine that doesn't require permanent installation, a portable ice maker is a great solution. Great for both on-the-go and home use, you'll always have plenty of ice for you, your family, and guests with a countertop ice maker.
Most Watched Videos
Introduction to Ice Makers
Introduction to Ice Makers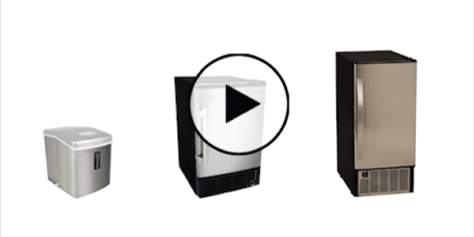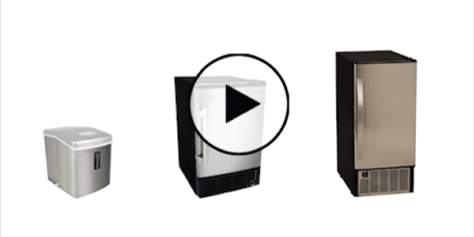 Introduction to Ice Makers
Ice Maker Maintenance
Ice Maker Maintenance
Ice Maker Maintenance
Toss the Trays
Toss the Trays
Toss the Trays
Have a Question? Call 1-800-297-6076
We Give You More
Free Shipping
Get free standard shipping on thousands of designated products across our site. Some items, like very large and heavy products, do not qualify at this time.
30 Day Returns
Just give us a call to return your item. Most items can be returned up to 30 days from the purchase date. For specific details please read our return policy.
17 Years of Service
We have been providing excellent customer service since 1999, from 24x7 phone support, a world-class website and learning center, and faster home delivery.
Helpful Product Experts
Talk or chat with one of our friendly Austin, TX experts and ensure you order the right product for your needs. Average call wait time is less than 1 minute.
Price Match
We are competitively priced everyday but if you do find a better deal at another authorized dealer let us know. For more details, see price match policy.
Loading Video
California Prop 65
FAQ
General Summary of Proposition 65 The "California Safe Drinking Water and Toxic Enforcement Act of 1986" (more commonly referred to as 'Proposition 65') was enacted to ensure that customers be properly warned when a product contains a substance known to cause cancer or reproductive harm. The law requires the State of California to publish and maintain (annually) a list of substances to be available to the general public. Additionally, the law requires that businesses properly notify residents of the State of California about the presence of these substances in the products they purchase, or that may be present in their homes, workplaces, or that otherwise may be released into the environment. The specific list contains a wide range of naturally occurring and synthetic substances including manufacturing and construction chemicals, pesticides, tobacco, food-additives, solvents, household products, drugs and byproducts created from a specific product usage.

For complete list of these chemicals, visit: http://oehha.ca.gov/proposition-65/proposition-65-list
What is the California Proposition 65 Warning?
You may have noticed the below warning label on our products, or on products from other manufacturers. The warning has become increasingly commonplace and oftentimes raises questions about why the warning exists, and what it means to a customer. The warning itself is just one of many requirements for businesses operating in and/or selling products to customers in the the State of California. The warning does not mean that a product that includes the warning will cause cancer or reproductive harm, but rather it simply is provided in order to educate the consumer that a substance may exist. A large number of the substances listed under Proposition 65 have been in regular use for many years without any documented harm to a consumer. This is due to the low concentrations and minimal exposure that actually occurs with these substances. Those chemicals, however, have been determined by the State of California to be listed as potentially harmful.
I don't live in California. Why did my product include this warning?
In order to ensure compliance with Proposition 65 requirements we have determined that all products manufactured by Living Direct Inc, including products sold under the EdgeStar, Avallon and Koldfront brands, should include the above-referenced warning label. This labeling requirements exists for all of our products regardless of the location / destination to which the product is ultimately sold and/or shipped.

We believe that our products, when used as designed, are not harmful and as such this warning is provided in order to properly conform to the requirements of Proposition 65.

For complete details regarding Proposition 65, please visit:http://oehha.ca.gov/prop65.html
Toolbar Comparison Guide
About
Using the "Compare" button, you can store products in the toolbar on the bottom of your screen to compare later.
Usage
Click on an item to toggle between "selecting" and "deselecting" it. Products are selected by default. When you hover over a product on the toolbar, you will have the options of viewing the item or removing it.
Comparing
You must have at least two products selected in the toolbar to compare them. Once you do, click on the "Compare Selected Items" button on the toolbar.
Product Compare
Sort Results