Avallon
APAC140HC
Item # bci

2358266
$479.00
Large Room 525 Square Foot 110-120V Portable Air Conditioner and Heater with InvisiMist Drain Technology
Black Friday Countdown Deal Save 20% plus Free Shipping
Discount already applied. No coupon necessary.
Offer Ends 11-23-2017
List Price: $767.69
$479.00
You Save: 38%
Save 15% on your First Order

††

+ Free Freight Shipping*
With the Build.com Credit Card
Avallon 14,000 BTU Dual Hose Portable Air Conditioner and Heater - Slate Grey and Platinum
Coverage Area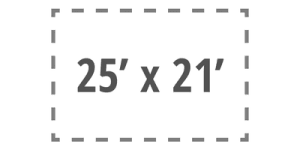 The APAC140H is equipped with 14,000 BTUs of cooling power and can effectively cool a room up to 525 square feet in size. This compact, yet powerful portable air conditioner is perfect for cooling bedrooms, offices, or living spaces. The APAC140H doubles as an 86 pint dehumidifier, which removes excess humidity from the air, helping the space to feel even cooler and improving air quality.
How to Install
Step 1: Place window kit into window opening.
Step 2: Slide plate cover the width of the opening.
Step 3: Close window to hold plate in place.
Step 4: Attach intake and exhaust hose to the unit.
Step 5: Place the other end of both the intake and exhaust hose into the holes on the window plate
* Please Note: The portable air conditioner shown in this video is to demonstrate installation only, it is not model APAC140HC.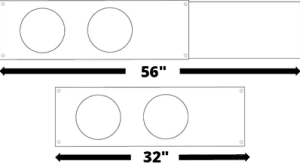 To easily vent the portable air conditioner, the APAC140HC includes a window kit that can conveniently be fitted in windows that are 32" - 56" in size. Window kits for portable air conditioners take up much less space than installing a window air conditioner, which means you don't have to worry about blocking the light or view from your window.
Invisimist System
To reduce the frequency that the water tank must be manually emptied, the Invisimist System includes an internal pump, water line and misting nozzle that extracts water from the tank and mists it out the window vent.
Features
Dual Hose
Separate intake and exhaust hoses allow for more air intake, cooling power, and more stable air pressure, which contributes to a 40% faster cooling rate.
Intelligent Mode
The unit will automatically adjust the fan speed and other settings to keep the area cool to the set temperature.
Self-Evaporative System
Built with an automatic drain system that is able to exhaust all liquid formed by condensation so that there is no need to manually drain the unit in most climates.
Dehumidify Mode
In this mode, the APAC140H will remove up to 86 pints of moisture per day from the air.
Remote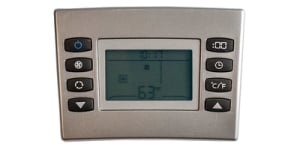 All of the settings on the unit can be conveniently controlled from across the room via the remote control.
Power - Switches unit of/off
Mode - Cool, dehumidify and fan only mode
Fan - Sets the fan to high/medium/low
Up/Down - Increases and decreases temperature or time when timer is enabled
Timer - Enables timer
LED Display - Shows indicators for fan speed, mode, temperature setting, clock, timer, and Fahrenheit and Celcius settings
Drain
Condensate is expelled from the unit through the hose, but in more humid climates where moisture is more prevalent, the excess moisture can be drained through the drain in the back of the unit.
Benefits
No Restrictions
For spaces where window air units are not allowed, portable air conditioners are a great alternative as they do not protrude from the outside, allowing them to comply with building codes and HOA's.
Non-Permanent Installation
As long as there is a place to vent the hot air and a standard electrical outlet available, portable air conditioners can be used wherever and whenever needed and easily moved or stored when not in use.
Cut Costs
Instead of turning down your central A/C unit for that one room that is always a few degrees hotter than the rest, Portable ACs can be an efficient way to cool hot spots in your home without sacrificing your electricity bill.
User Friendly
Easy to connect and operate, portable air conditioners can be used wherever and whenever needed and easily moved or stored when not in use.
Let the powerful Avallon 14,000 BTU Dual Hose Portable Air Conditioner and Heater (APAC140HC) transform your space into a cool, dry, comfortable environment even in summer months. Able to cool down up to 525 sq. ft. of space without requiring permanent installation, this is the perfect unit for your home, office, or both. An additional heater function makes this a versatile unit you can use all year long. Mobility casters allow you to easily transport the unit to the area you need it most.
Unlike traditional models, this portable air conditioner features the exclusive InvisiMist Technology to ensure uninterrupted moisture removal in even the most humid of climates. When excess water accumulates in the unit's reservoir, the InvisiMist function will automatically begin working, first pumping the water from the reservoir through the connected vent hose and then transforming the water into a light mist before expelling it outside. This prevents your unit from suspending cooling due to a full reservoir; instead, you'll be able to enjoy continuous cooling and moisture removal.
Dual Hose Design:
Separate intake and exhaust hoses allow for more air intake, more cooling power, and a more stable air pressure, which all contribute to a 40% faster cooling rate than similar single-hosed units
Intelligent Auto Mode:
In Auto Mode, this portable air conditioner will automatically adapt fan speed and other settings to cool your area to your set temperature
24 Hour Timer:
Program the unit to follow your schedule by using the 24 hour timer function to set it to power on or off exactly when is convenient for you
Dehumidify Mode:
Because warm air and moisture are typically associated, this unit has a powerful dehumidify mode that will remove up to 86 pints per day of moisture from your air
Three (3) Fan Speeds:
Alter fan speed and noise output by choosing between the three (3) different fan speed settings
Window Vent Kit Included:
Everything you'll need to vent your portable air conditioner through the window arrives with the unit, including easy-to-follow instructions
Exhausts Moisture:
Moisture is exhausted along with warm air through the connected vent hose, leaving your area cool and dry
Remote Control Included:
Manage your unit's settings from anywhere in the room using the included remote control
Note: Heat function is intended to provide supplemental heating in addition to an existing heat source. The heat function has a lower BTU rating than the cool mode and therefore does not treat the same square footage.
Dimensions
Depth: 15.7 Inches
Height: 33.7 Inches
Width: 19.5 Inches
Owners Manuals
You may download a product owners manual and product information below:
**Please note, Adobe Acrobat Reader is required to view pdf files