EdgeStar
CWD1550BL
Item # bci

3091433
$879.00 - $939.00
24 Inch Wide 2.0 Cu. Ft. Front Loading Electric Washer/Dryer Combo
$1,353.00 - $1,445.00
Free Shipping!
Autumn Savings!
Use Coupon Code: AUTUMNDAYS at checkout to save an additional 10% with free shipping
Offer Ends 11-01-2017
List Price: $1,353.00 - $1,445.00
$879.00 - $939.00
You Save: 35%
EdgeStar 2.0 Cu. Ft. Ventless Washer Dryer Combo - Black
How does a combination washer dryer work?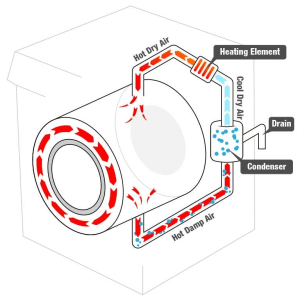 Washing
Just like a front loading washer, with a combo all your clothes are placed in the front of the unit and you can choose from a wide variety of wash cycles with the control panel. Combos have just as many wash cycles as a standard washer so that you can customize the wash for each load.
Drying
The dry cycle in combo units uses what is called cold water condensation drying. Since combo units wash and dry the clothes in one drum, once the wash cycle is complete the unit heats the air inside the drum and when all the air has been heated and saturated it is sent through a condensing chamber. This chamber is kept cool by cold mist that gets released throughout the dry cycle. When the hot, wet air from the drum enters the condensing chamber the cold water cools the air causing the moisture to release. The cooled air in the chamber is then sent over the heating element and back into the drum where it is heated to soak up the moisture and the process is repeated until the clothes are dry. All the water from the condensing chamber is pumped out of the unit through the same hose that is used to drain water during the wash cycle.    
Why would you need a combination washer dryer?
Space Constraints
With only one unit instead of two, the foot print is much smaller and a combo can be used virtually anywhere. There's no need for a designated laundry area, you could use the unit by a bathroom or kitchen sink and with a portability kit, roll it away and store it when not in use.
Lack of washer & dryer connections
All that is needed to install a combo is a 115V plug and access to a faucet or sink to use as the water source and drain. Since no laundry hookups or venting is required, the ease of installation makes combos ideal for not only tight spaces, but homes and apartments that lack traditional laundry connections.
Common Uses:
Apartments/Condos w/o washer/dryer connections
With a 115V plug and faucet you can be up and running washing clothes without laundry connections.
RVs
Avoid the hassle of laundromats by bringing a combo on the road with you.
Boats
Able to fit in tight spaces, a combo is a nice added convenience to a boat or yacht.
Nursing Homes
Residents can wash their clothes in the comfort of their rooms to maintain a sense of independence.
Extra Washer & Dryer
Whether you have an excess of dirty clothes or want a separate place to wash delicates and light loads, a combo can help tackle your laundry pile.
Mother-in-Law/Guest House
Offer the convenient amenity of a combo in your guest living space.
Extended stay hotels or temporary housing
Insure your guests have all the comforts of home with a combo that requires no permanent installation.
Hair salons
Avoid having to take piles of dirty towels and other laundry offsite to wash by having a combo unit right in the salon.
A built-in water heater and unrivaled settings customization are just a few of the features that combine to make the EdgeStar 2.0 Cu. Ft. Ventless Washer Dryer Combo (CWD1550BL) one of the most versatile and efficient combination washer/dryer units available. Inside and out, this model is designed and built to outperform others. Increased washing and drying capacity, an impressive list of unique operation and design features, and advanced technology make the EdgeStar 2.0 Cu. Ft. Ventless Washer Dryer Combo an exceptionally versatile and capable choice for your laundry needs.
All-In-One Laundry Machine:
The CWD1550BL is ideal for homes that lack the proper ventilation and space to accommodate full size units
Variety of Wash Cycles:
There are thirteen (13) different wash cycles, five (5) wash/rinse temperatures, five (5) spin speeds, three (3) soil level settings, and a self-clean setting that utilizes extra high levels of heat to remove any buildup
Impressive Cycle Customization:
Custom settings for every cycle give you the power to precisely tailor operation to the exact demands of any and all loads – there's even a favorite "My Cycle" setting
Extra-Wide Spin Speed Range:
From 600 RPM all the way to 1120 RPM, this model has the spinning versatility to handle delicates as well as large and bulky items
Fully Integrated Water Heater:
Equipped with a built-in water heater, the CWD1550BL heats water to a higher temperature, and more quickly and efficiently than most other combo washer/dryers
Dimensions
Depth: 22.25 Inches
Height: 33.5 Inches
Width: 23.5 Inches
Owners Manuals
You may download a product owners manual and product information below:
**Please note, Adobe Acrobat Reader is required to view pdf files