Send a Text Message
Access this product information directly from your mobile device, or share the product with someone else by sending it in a text message.
EdgeStar
Item # bci

2866123
Discontinued
Small Room 115V Portable Air Conditioner with Dehumidifier, Window Mounting Kit and Remote
EdgeStar AP10002BL

EdgeStar AP10002BL
EdgeStar AP10002BL Small Room 115V Portable Air Conditioner with Dehumidifier, Window Mounting Kit and Remote
CFM: 118, 147, 177
Cooling Area: 350 sq. ft.
Depth: 15.5 in.
Height: 30.68 in.
Width: 13.37 in.
Control Type: Electronic
Fan Speeds: 3
Depth: 15.5 in.
Height: 30.68 in.
Width: 13.37 in.
Description & Specifications
EdgeStar Smallest Footprint 5,600 BTU Portable Air Conditioner - Onyx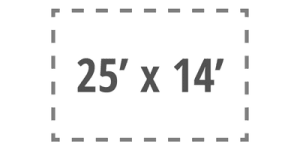 Coverage Area
The AP10002BL is equipped with 5,600 BTUs of cooling power and can effectively cool a room up to 350 square feet in size. This compact, yet powerful portable air conditioner is perfect for cooling bedrooms. The AP10002BL doubles as a 60 pint dehumidifier, which removes excess humidity from the air, helping the space to feel even cooler and improving air quality.
How to Install
Step 1: Place window kit plate into window opening.
Step 2: Slide plate to cover the width of the opening.
Step 3: Close window to hold plate in place.
Step 4: Attach exhaust hose to the unit.
Step 5: Place the other end of the exhaust hose into the hole on the window plate.
* Please Note: The portable air conditioner shown in this video is to demonstrate installation only, it is not model AP10002BL.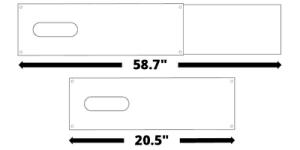 To easily vent the portable air conditioner, the AP10002BL includes a window kit that can conveniently be fitted in windows that are 20 1/2" - 58 3/4" in size. For larger windows or use in sliding glass doors, purchase the APPK2010 kit which expands up to 83". Window kits for portable air conditioners take up much less space than installing a window air conditioner, which means you don't have to worry about blocking the light or view from your window.
Features
Self-Evaporative System
Built with an automatic drain system that is able to exhaust all liquid formed by condensation so that there is no need to manually drain the unit in most climates.
Automatic Restart
The intelligent design auto restart function stores your selected settings so that in the event of a power failure the unit will restart just as before when the electricity comes back on.
Three Fan Speeds
Choose between high, medium, and low fan speeds to find the perfect setting for air output and noise.
Small Footprint
The AP10002BL takes up very little floor space and has a 13" x 15" footprint.
Remote
All of the settings on the unit can be conveniently controlled from across the room via the remote control.
Drain
Condensate is expelled from the unit through the hose, but in more humid climates where moisture is more prevalent, the excess moisture can be drained through the drain in the back of the unit.
Control Panel

Power - Switches unit on/off.
Mode - Cool, dehumidify and fan only mode.
Fan - Choose between high/medium/low fan speed.
Up - Increases temperature.
Down - Decreases temperature.
LED Display - Shows ambient temperature, set temperature.
Benefits
No Restriction
For spaces where window air units are not allowed, portable air conditioners are a great alternative as they do not protrude from the outside, allowing them to comply with building codes and HOA's.
Non-Permanent Installation
All you need is a place to vent the hot air and a standard electrical outlet, making installation hassle free.
Cut Costs
Instead of turning down your central A/C unit for that one room that is always a few degrees hotter than the rest, Portable ACs can be an efficient way to cool hot spots in your home without sacrificing your electricity bill.
User Friendly
Easy to connect and operate, portable air conditioners can be used wherever and whenever needed and easily moved or stored when not in use.
Save space, cut costs, and keep cool with the slim design of the EdgeStar Smallest Footprint 10,000 BTU Portable Air Conditioner (AP10002BL). With a compact 13" x 15" footprint, this unit takes up very little floor space. Energy saving features offer you an opportunity to cut energy costs, and 10,000 BTUs of cooling power give you the capability to cool up to 350 sq. ft. of space.
Self-Evaporative System:
Equipped with an auto-drain system that exhausts all condensate, the need to manually drain water from the unit is eliminated**.
Energy Saving Programmable Features:
Cut costs by setting the unit to run only when you need it, and have it cool your space before you even get home using the 24 hour programmable timer-- The timer allows you to set the unit to cycle on automatically, or once it is on, you can set it to automatically turn off.
Intelligent Auto Restart:
The Auto Restart Function stores your settings, so that in case of a power outtage, it will pick right back up where it left off when power is regained.
Dehumidify Mode:
Humidity can be just as much of a hassle as heat, so let the Dehumidify Only function with a 60 pints per day capacity make quick work of humid spaces.
Three (3) Speed Fan:
Find your perfect setting and control the unit's noise and air output by choosing a high, medium, or low fan setting.
Easy-to-Use Window Kit:
Venting your portable air conditioner is a simple three step process, and your purchase includes all the necessary materials-- Simply connect the vent hose to the back of the unit, remove the cap from the window vent kit and connect it to the exhaust hose.
Eco-Friendly:
Designed to be an environmentally friendly product, this portable air conditioner uses non ozone-depleting R410A refrigerant.
Dimensions
Depth: 15.5 in.
Height: 30.68 in.
Width: 13.37 in.
Owners Manuals
You may download a product owners manual and product information below:
**Please note, Adobe Acrobat Reader is required to view pdf files
×
Federal Law prohibits the sale of this product
All faucets sold within the United States must be low lead compliant. This product is not.
Shipping Details
Shipping Method: Ground / Parcel
This item ships Ground or USPS. Delivery times related to these ship methods are usually between 2 and 7 business days once the product leaves the warehouse. We will email you tracking information once the product leaves our warehouse. Ground or USPS deliveries do not require a signature and may be left at the ship to location. All deliveries can occur Monday through Saturday depending on your local delivery carrier. Order must be fully processed by 12pm CST to be eligible for "Guaranteed Same Day Shipping." Orders processed after that time may ship out the following business day.
Ground or USPS deliveries do not include a guaranteed delivery date. Should you require a specific delivery date or expedited shipping options, please contact our customer service department so they may assist you with options and pricing. Call 1-855-487-6949, M-F 8am to 6pm CST.